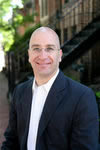 DrugChatter is a product of thinkBiotech LLC, and is managed by Yali Friedman, Ph.D.
Dr. Friedman is also publisher and chief editor of the Journal of Commercial Biotechnology. His first book, Building Biotechnology, is used as a course text in dozens of biotechnology programs. His other books include Best Practices in Biotechnology Education and Best Practices in Biotechnology Business Development. He is also a member of the board of directors of AmericasHealth, serves on the science advisory board of Chakra Biotech, is an associate member of the World Technology Network, and also serves as a judge for the Biotech Humanitarian Award and the Maryland Incubator Company of the Year Award.
Dr. Friedman has strong exposure to leading issues in international biotechnology. He is lead editorial consultant for Scientific American's worldVIEW, a global biotechnology perspective profiling biotechnology industries and innovation capacity in dozens of countries, and has been invited to participate in biotechnology industry development forums for international groups such as APEC and for individual countries such as Japan, Canada, Germany, the Philippines, and Turkey.
Dr. Friedman teaches biotechnology management at the National Institutes of Health and regularly guest-lectures for other biotechnology education programs. He writes and speaks on diverse topics such as biotechnology entrepreneurship, strategies to cope with a lack of management talent and capital when developing companies outside of established hubs, and new paradigms in technology-based economic development.